Threenh passed the national high-tech enterprise certification
On October 31, 2017, Shenzhen Threenh Technology Co., Ltd. passed the "Certificate of New Hi-tech Enterprises" jointly issued by Shenzhen Science and Technology Innovation Committee, Shenzhen Municipal Finance Committee, Shenzhen Municipal State Taxation Bureau and Shenzhen Local Taxation Bureau, becoming a national high-tech enterprise.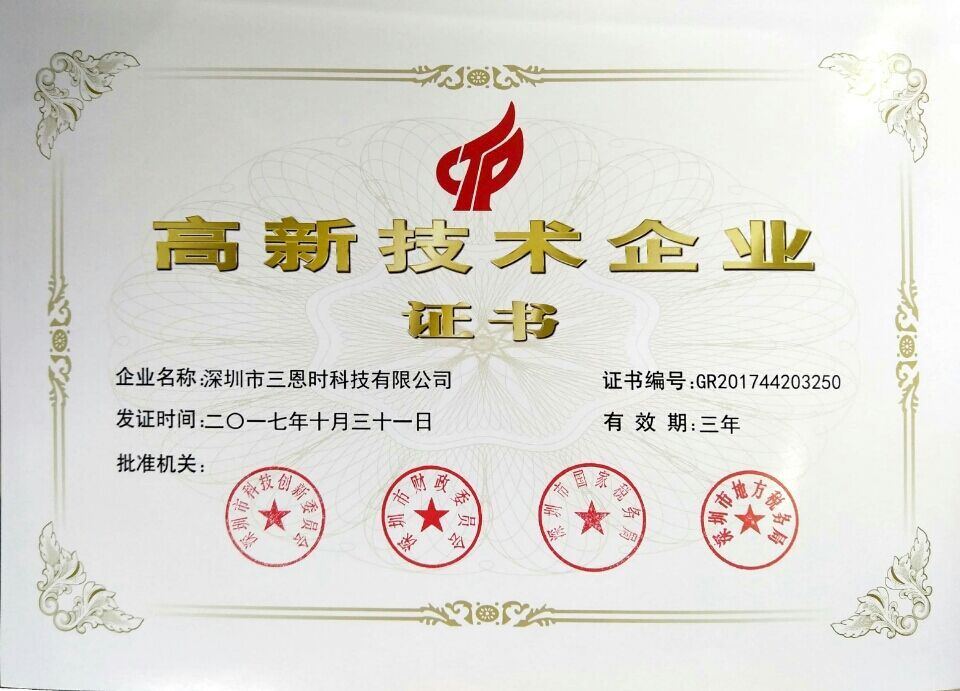 The selection of "New Hi-tech Enterprises" is based on the comprehensive evaluation of core independent intellectual property rights, the ability to transform scientific and technological achievements, the level of research and development organization and management, and the growth of enterprises. The "Certificate of New Hi-tech Enterprises" is a special qualification recognition set up by the state to support and encourage the development of high-tech enterprises, adjust the industrial structure and enhance the national economic competitiveness. It plays an extremely important role in China's economic development and determines that enterprises generally have high development and high economic benefits.
Since its inception, 3nh Company has been insisting on customer demand as the driving force, deepening the product development process, continuing innovation of technology, products and solutions, relying on technological innovation and technological advancement to promote enterprise development.
The recognition of "Certificate of New Hi-tech Enterprises" indicates that 3nh has been affirmed and recognized by the relevant departments of the state in the field of color management industry innovation. With 21 years experience of color detection, and independent R&D and innovation, the company continuously improves the comprehensive competitiveness. With powerful technology and professional R&D team, 3nh independently developed and designed a series of products, such as color colorimeter, spectrophotometer, gloss meter, standard light source box, image test charts, etc. The products have passed the ISO 9001:2015 international quality system certification, and have obtained a number of national patents in the field of color detection.
Recommend